About SEP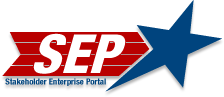 The SEP (Stakeholder Enterprise Portal) is a single, secure entry portal that provides VA partner organizations and external stakeholders access to the web-based systems they need to assist Veterans, Reservists, members of the National Guard, and their dependents.
The SEP combines previously autonomous VA partner organizations such as Compensation Service (CS), Veteran Readiness and Employment (VR&E), Health Administration Center (HAC) and Education Service (ES) into a seamless, secure and consistent service.
As SEP continues to expand, more VA partner organizations will be added.